Corsair Hydro H105 Watercooling Performance CPU Cooler





Deal4Today




Corsair H105 Hydro Series, Extreme Performance 240mm Liquid CPU Cooler, LGA 115x, 1366, and 2011 & AM2, AM3, FM1 and FM2

Stock:

Discontinued!
This item is currently discontinued and at present, we have no replacement on order.

Quickcode:
59663
Stock code:

FAN-WAT-CW-9060016-W

Manuf. code:
CW-9060016-WW
Cust. Rating:
Be the first to write a review.



Description: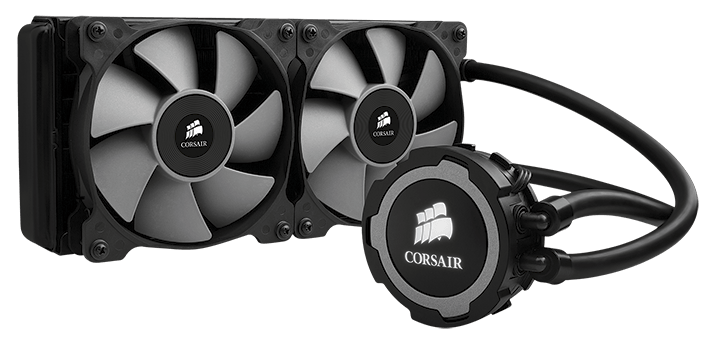 Extreme CPU cooling performance with customizable PWM fan speed and a high-capacity 240mm radiator
Hydro Series H105 provides extreme CPU cooling performance. The 240mm top-mounted high-capacity radiator is paired with high-performance SP120L fans for the powerful heat dissipation you need for highly overclocked CPUs. And, PWM fan speed fan control lets you select the precise level of cooling power you need.
Installation is easy, with an all-new mounting bracket that provides quick, tool-free assembly. The three included red, gray and blue accent rings let you match your H105 to your fan or motherboard color scheme. And, like all Hydro Series liquid CPU coolers, the H105 is completely self-contained, with no filling or maintenance required.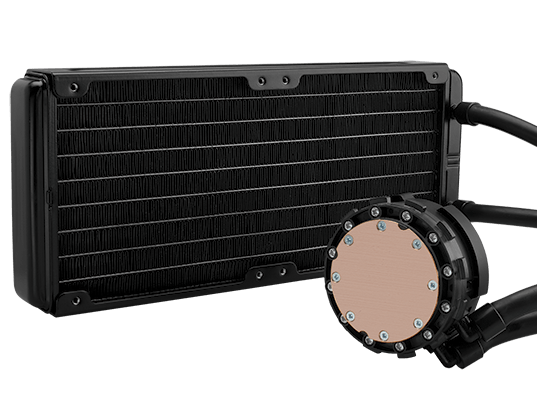 Take advantage of your case's 240mm radiator mount
Many newer PC cases providing mounting points for 240mm (dual 120mm) radiators. The greater radiator volume allows for much quicker cooling than traditional single radiators.
Dual SP120L fans with PWM control for customized cooling performance
The SP120L fans are custom-engineered by Corsair to deliver higher static pressure with less turbulence and noise. Since they're compatible with PWM fan headers, you can select the exact amount of cooling power you need.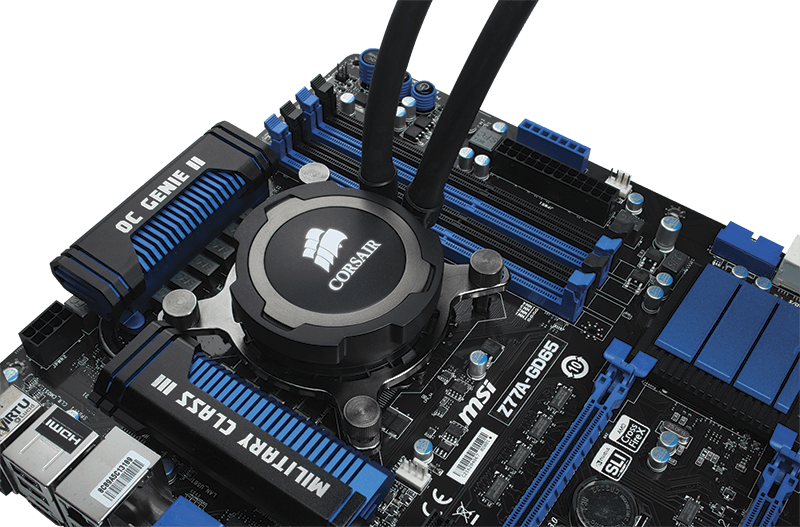 All-new mounting bracket design for easy installation
The mounting bracket is compatible with multiple sockets, and you don't need a screwdriver to securely install it.

Includes three color accent rings to match your H105 to your motherboard
Dress up the pump assembly in red, gray or blue to match or contrast your system's color scheme.
Specifications
: Socket Compatibility - 1150 / 1155 / 1156 / 1366 / 2011 / AM2 / AM3 / AM3+ / FM1 / FM2
: Approx Fan Speed - 800 - 2700 +/- 10% rpm
: Fan Dimensions - 120 x 25 mm
: Fan Airflow - 73 CFM
: Heatsink Dimensions: - 270 x 120 x 38 mm (WxHxD)
: Sound Level - 37.7 dB
Warranty Information:
Comments, Questions & Reviews:
Latest...
Comments
Questions
Reviews
Write new...
Z11 Plus Case by EddieFosts
Hi there, Will this fit the Zalman Z11 Plus case? Cheers, Eddie
Answer
by declant on Friday, August 19, 2016
Hi EddieFosts,
The H105 wouldn't fit this case.
what is by shealy
what is the tdp of this cooler ? i am hoping to fit a cpu with a 95w tdp and was wondering would this be ok ?
Answer
by matthewh on Friday, March 18, 2016
Hello Shealy,
Yes, this water cooler will be perfect for you 95w TDP Processor.
would this fit ... by shealy
would this fit an 1151 form factor motherboard ?
Answer
by shaund on Sunday, March 6, 2016
Hi,
Yes that will be fine.
Will this fit? by Konrad
Will the h105 fit at the top in the h440 case with the msi 970 gaming motherboard?
Answer
by shaund on Friday, March 4, 2016
Hi Konrad,
That should be fine.
Will this fit by Sam criddle
Hi will this fit on the z170x gigabyte 7 motherbord in a h440 case ?
Answer
by shaund on Saturday, December 5, 2015
Hi Sam,
Yes that will be fine.